So after months (years?) of reading about spiralizing veggies and a year or more of carefully cutting my zucchinis into tiny slices I finally bought myself a spiralizer! I was totally inspired to by the gorgeous zucchinis I'm growing in my garden.
I'm so pleased I did, I've used it so many times already – the taste and texture of just picked courgetti is just amazing! I'm starting to experiment with what I can do with it to make healthy, quick, yummy meals.This is what I came up with for the first two picked from my garden: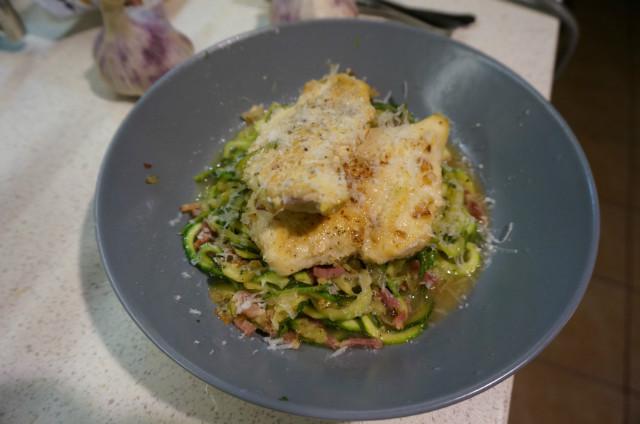 Pan fried chicken and courgetti with lardons, garlic, shallots and lime.
Ingredients:
100-150 grams of chicken breast per person
1-2 courgettes / zucchinis (depending where you come from and how big they are!) per person
50 grams of lardons (chopped streaky bacon) per person
Garlic and shallots (eshallots) finely cut – I used 2 cloves of garlic and 2 shallots for 2 people but just adjust to your taste. You can also use onion if you don't have shallots
Parmesan and freshly ground black pepper to finish
Method:
Fry your lardons, garlic and shallots in a non stick pan until cooked and just starting to brown
Remove from the pan and set aside (or push to the side of your pan)
Add the chicken breasts and cook then remove from pan
Mix in the courgetti with the lardons, garlic and shallots and squeeze the juice of 1/2 a lime over it all
Place a lid over the pan allowing the courgetti to cook until just al dente
Serve into bowls and top with the chicken – I also added an extra squeeze of lime onto the chicken
Sprinkle some freshly grated parmesan and black pepper to serve
Enjoy your delicious low carb dinner!
I'm so glad I used the lime – it really freshened the whole meal making it a fantastic summer dish!