A quick recap of what we have been up to this year. We left Oz at the beginning of February and flew into the UK so we could stay at my mother in laws while we found our feet and bought a car. After three weeks we headed off to France for a house hunting trip (with grandmére in tow to help with the kids).
I wanted to find somewhere central to stay and we found a lovely gíte mid way between Perigueux and Bergerac. If you are ever in the region Thomas and Marion were just lovely and the gite charming and really well equipped http://www.gite-mamet.com/ . If you are there on a house hunting trip or off season it has a lovely wood burner as well as electric heating and they are happy to do long winter lets. It was perfect for our house hunting which took us all over the Dordogne, we clocked up about 2,000 km in the month we were there.
We saw some lovely properties, some out of our price range and a lot that were in our price range not habitable enough for us. We wanted a property that needed a lot doing that would therefore be affordable and that we could make our own but with at least a kitchen / bathroom / 2 bedrooms habitable even if basic. I had a list of what we needed from our new French home and it was something like this:
On the edge of a village or hamlet just outside a village
Village to have all the basic amenities, primary school, shop, baker, bar as a minimum
Not too far to bigger towns
Garden big enough to have veggies, chooks etc
Preferably a detached property
We started feeling a bit overwhelmed and worried when we hit the final week of our house hunting trip at the end of March and still hadn't found anything. I went back through all the properties that I'd discounted (mainly due to price). There were a few in and around the same village so I made some appointments in the final week. One agent who showed us a property that we loved the location of, in a hamlet on the edge of a village (with all on my above list and more!). The house wasn't right for us (no where near enough stone for our liking!) but the location was amazing, great views, set among houses on decent blocks of land (half to a couple of acres), only a kilometre out of the village, I even said to J I'd be tempted to consider the house due to the location. As we drove away there was a lovely old stone barn next door with gorgeous stone work and garden all around and I said to the other half 'I wish that was for sale', it was ticking all the boxes! When we got back to the gite I checked our appointment for the next day and I couldn't believe it but it looked like it could be the same building. We met the agent the next day and sure enough he drove us to the same barn but all the photos had been taken from the back hence why we weren't sure when we first saw it. Things slowed at this point with negotiations to buy it as it was slightly above budget and the agent went away for a few days and we went back to the UK for our family holiday with my family. It looked like it wouldn't happen but after a couple of weeks of negotiations from afar we managed to come to a deal!
The trip itself in March was great, we had a lovely time with the kids and the MIL, I particularity loved having a wood burner again and sitting by the fire with my crochet!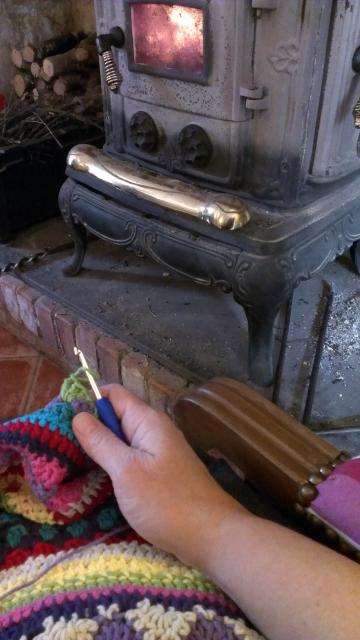 We visited the amazing Château de Castelnaud with it's museum of medieval warfare, the long climb to the top of the stairs gave us an amazing view: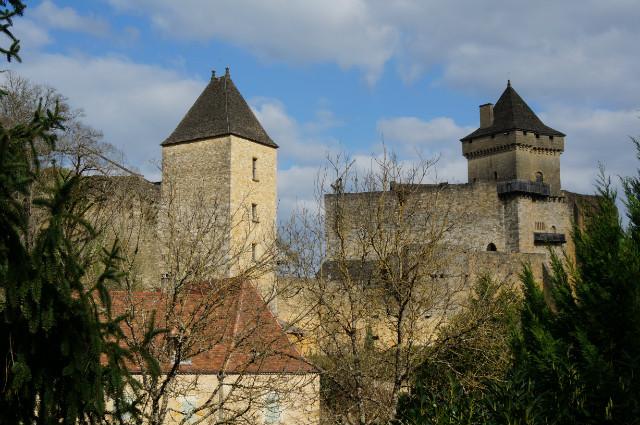 One of my favourite parts of the castle were the lovely herb garden with 4 different areas for aromatics, medicinal, and not sure what the other two were now, that they had found plans for and recreated. In the centre was an almond tree which was just coming into blossom when we were there.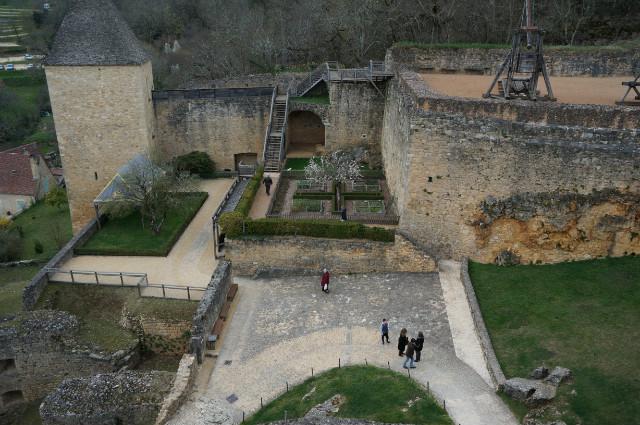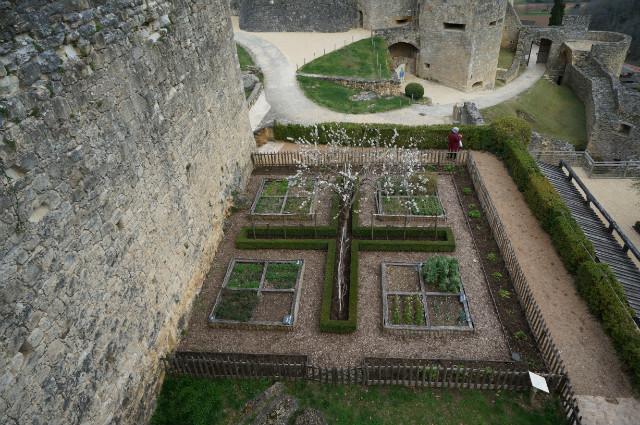 I also loved the kitchen which was set out as it would have been back in the day: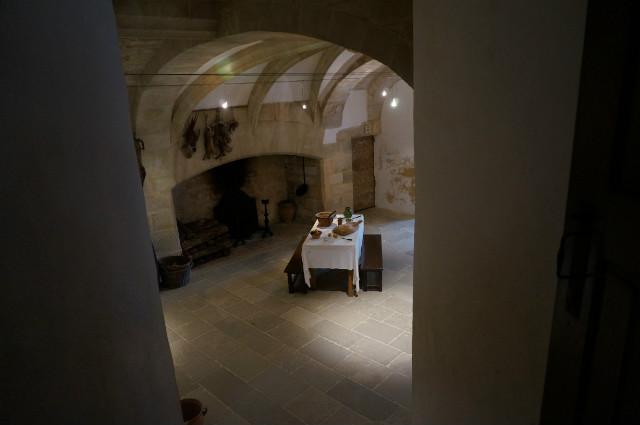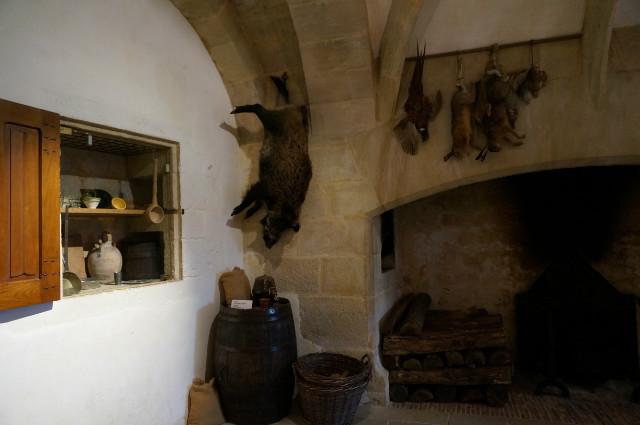 The boys favourite part was all the to scale medieval trebouchets and other war equipment (Louis enjoyed running around with the wooden bow we bought him!):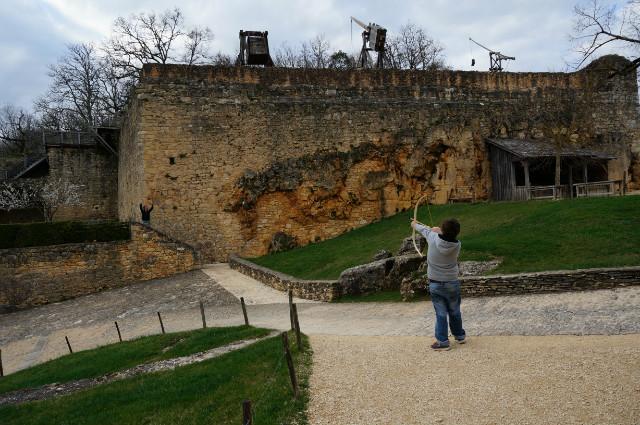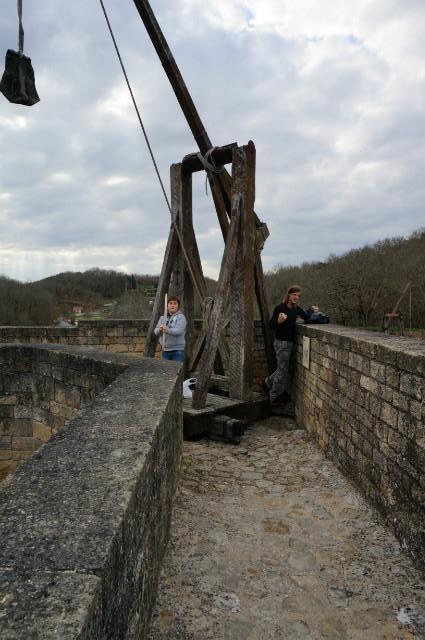 Of course we couldn't resist a photo opportunity at the end: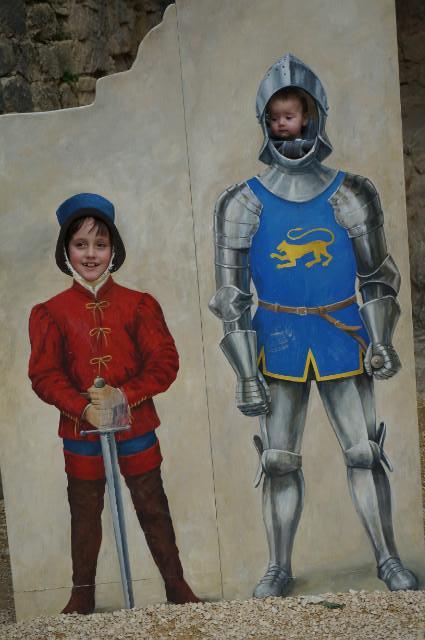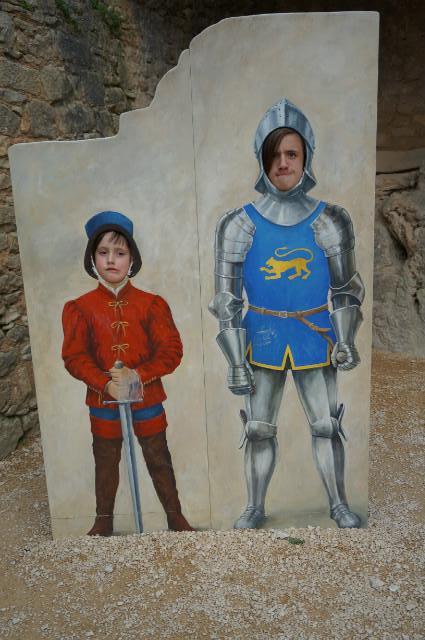 I'm not sure the baby quite knew what was happening bless him!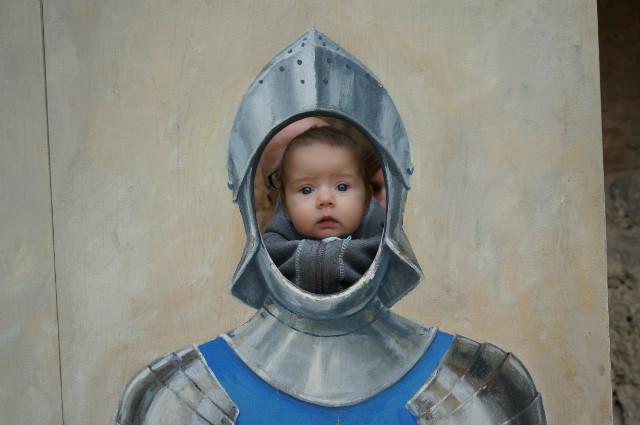 Other days out included the famous caves at Lascaux with their amazing cro-magnon cave paintings, some of the oldest in the world. During the month we also had some amazing meals and lots of yummy French bread, cheese and patisserie and enjoyed spring arriving while we were there (it was bleak and freezing when we arrived but by mid March we had some lunches outside with the temperature getting up into the 20's!). It was such a pleasure being back in France but also discovering a whole new area with it's own amazing culinary and historic wonders! A successful trip all around which found us our new home!