We'd never been over to Fraser Island so when we heard James and Naomi were coming to visit we knew it was a fantastic chance to do it – so it was a hugely exciting trip for us all. Josh had recently been over on a school trip and we didn't have room for us all in the 4WD so that worked out well as he was more than happy to stay with a friend. We got off at Wanggoolba Creek which had nothing other than the ramp to get off the barge and it was straight onto the dirt roads which were fantastic – freshly graded and really easy driving.
First stop was Central Station which was the main logging area back in the day. It had a kind of open-air museum with all the old buildings, and a rain-forest micro eco-system with a stunning creek and a board-walk through the rain-forest.
The water in the creek was so clear it took us a minute to even realise it was there! We were told by a guide we ran into that Fraser Island has some of the purest water on earth due to the filtration through the sand.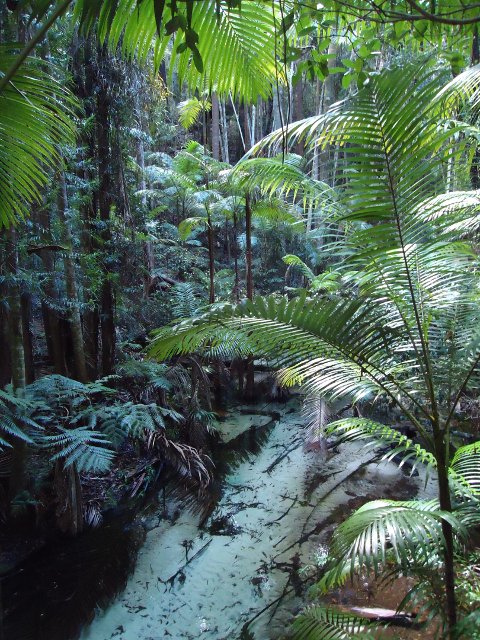 The board-walk enabled us to get right up close in the forest without damaging the fragile eco-system. There were longer walks you could do but we were very aware we only had the 2 days so had to keep moving so just took the shorter option.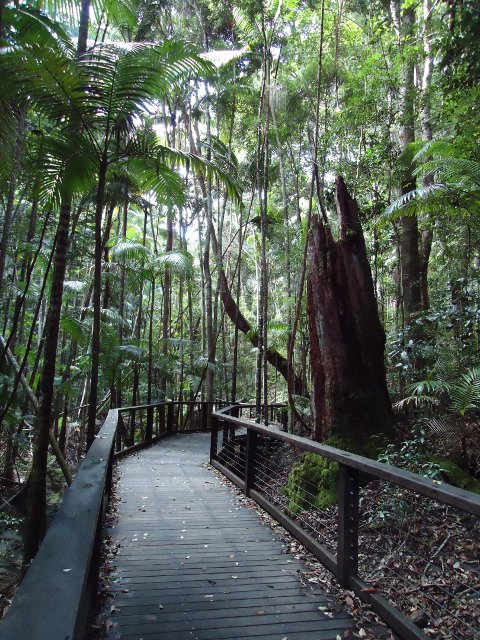 Stunning flora was everywhere we turned – and it was wonderful having the talented Naomi to take the pics!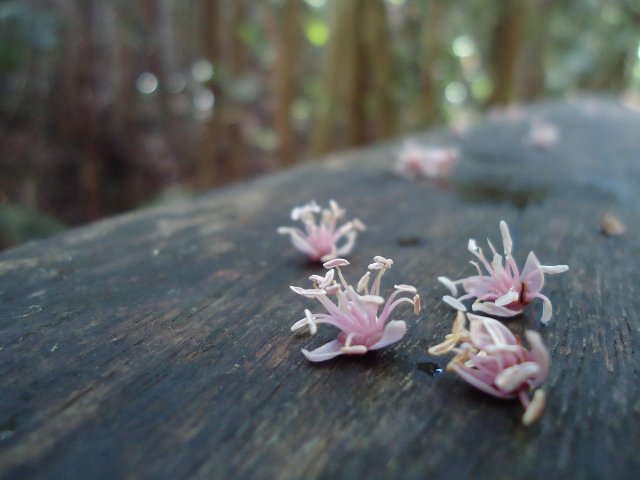 We were then told by the same guide to skip Lake Mackenzie (the famous one where all the pics are taken and I believe I saw Billy Connelly dive naked into on one of his travel shows!) and go to Lake Birrabeen instead so we headed there from Central Station. There was one couple leaving as we arrived to this: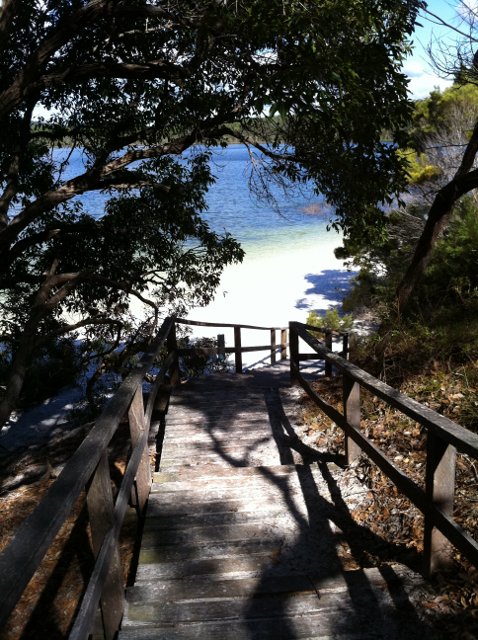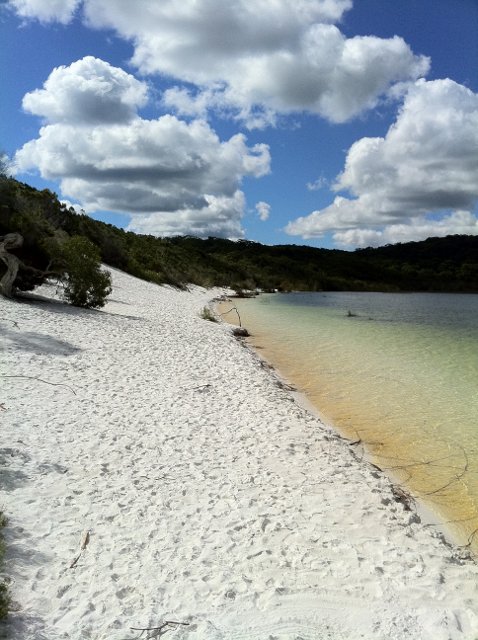 Fraser is famous for it's perched lakes, formed by organic matter breaking down and forming a crust over the sand which enables a lake to form. The water is so clean and so clear after being filtered by the sand that you can see the brown tannin stain in the crystal clear water from leaves breaking down – just incredible! The sand was so white it just didn't seem real and it even felt a bit strange (and squeaked when you walked). We had our lunch here, being very, very wary of any dingoes and keeping Louis in arms reach at all times – there had been another attack on a child only a few weeks earlier.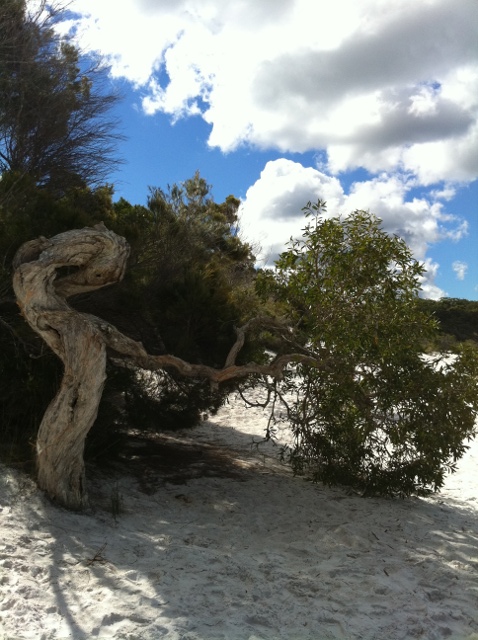 A rare photo of the 'little' brother and I (I still smile when I remember their visit and can't wait to catch up with them back in Europe!)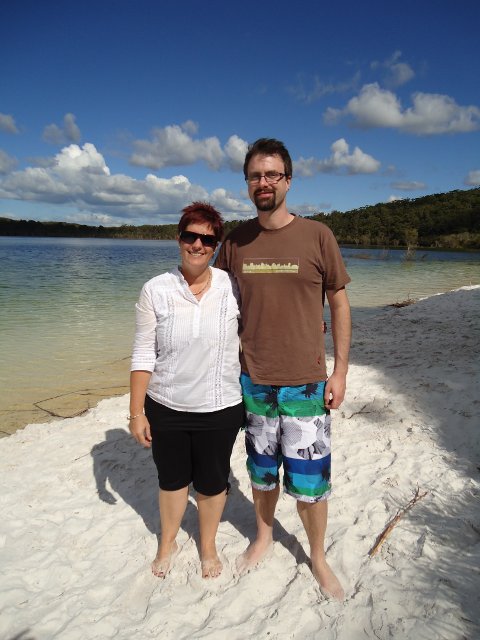 We had to keep moving so carried on across the island as we were camping on the eastern side and needed to be wary about the tides as we had a set time we could safely get up the beach. The roads were surprisingly good having just been graded – we were there mid week following 2 extra long weekends, where they had stopped issuing permits to go out there it was so busy. We were so blessed with our timing as we practically had the island to ourselves! We had a quick pit stop at the last of civilization at Eurong for a coffee before getting out onto the beach.
WOW is all I can say – we were all euphoric it was just the most amazing experience from the second we hit the beach. The Pacific Ocean pounding the beach to our right and the sand stretching ahead as far as the eye could see – we all had silly grins plastered on our faces and kept laughing with the sheer joy of it as we speed up the sand highway!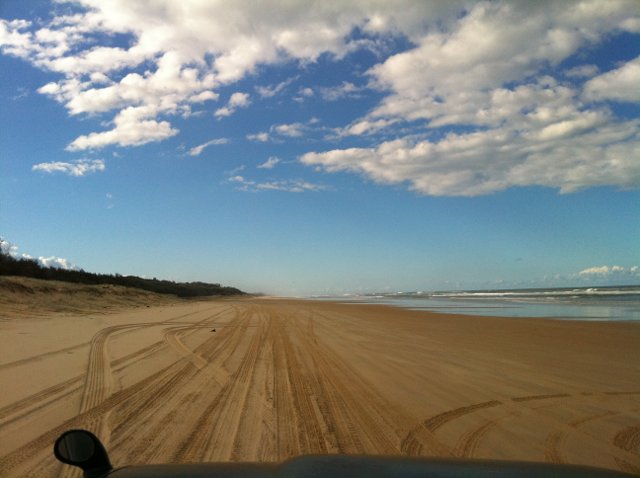 Of course we made James get out and get a pic!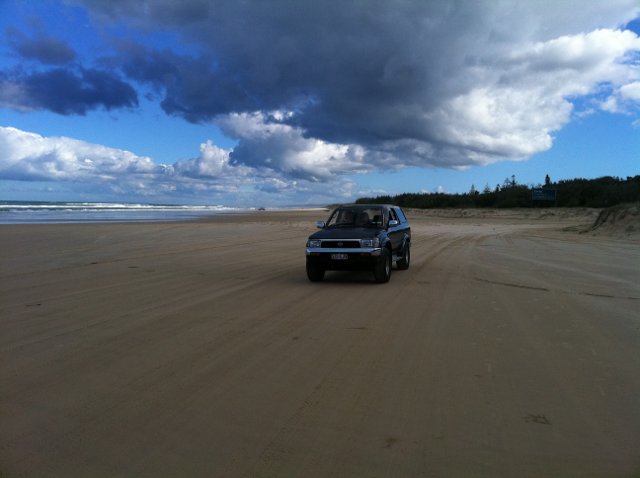 The map insisted that we don't go swimming along this coast as there is huge packs of large and deadly sharks that patrol the beach, it also warned that we needed to keep our eyes out for and give way to planes landing on certain stretches! Errrr – J – please avoid the one ahead!!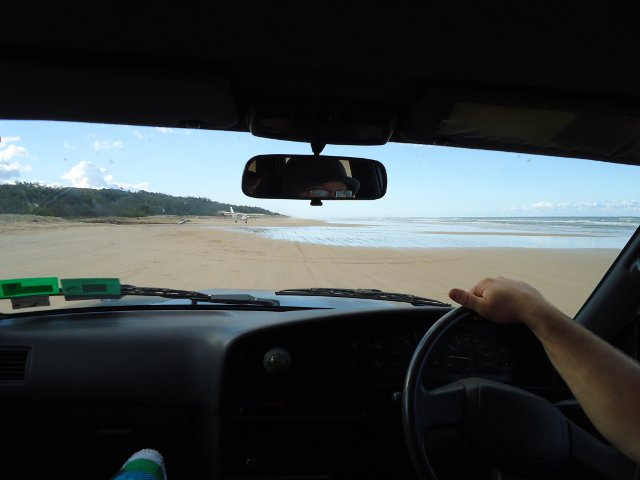 After managing to get around a rock outcrop (you can just about see it in the first picture of the beach) without getting too wet we soon saw something on the beach ahead – The Maheno – wrecked on the the island many years ago and slowly rusting away – just amazing.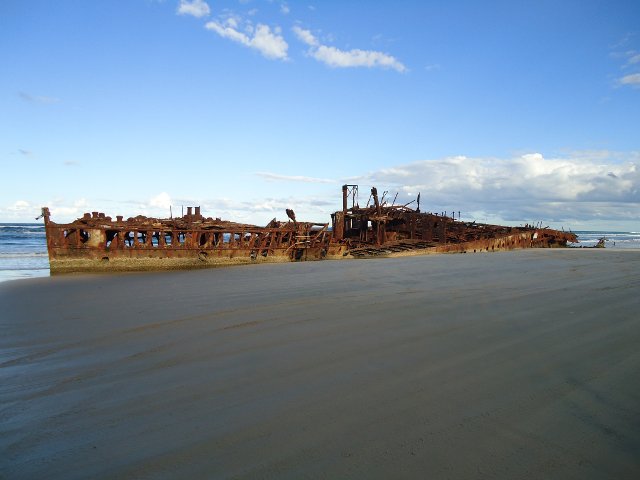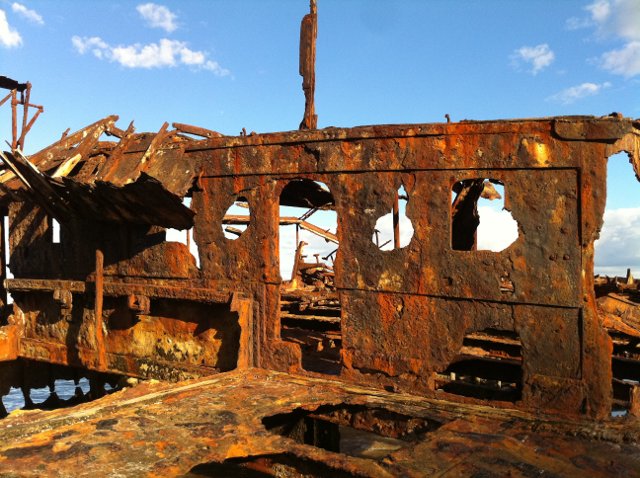 Here is a rare couple of the hubby, Boy 2 and me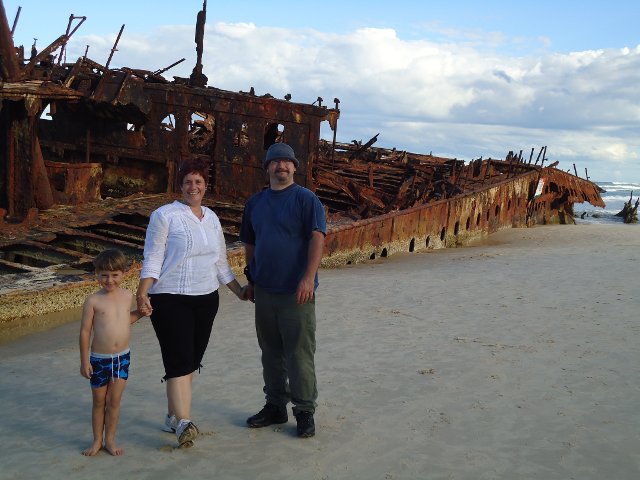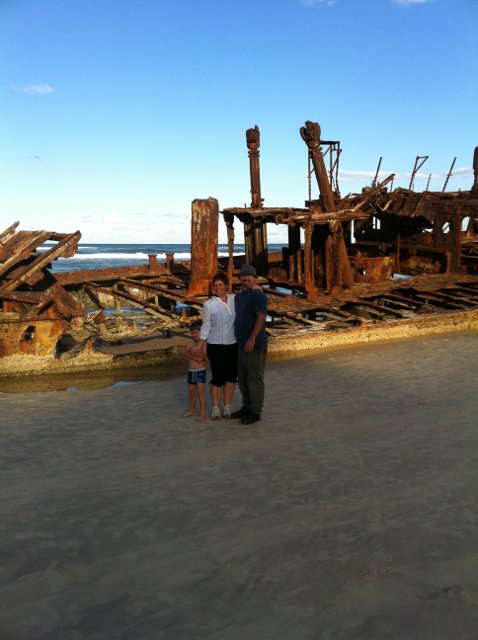 We had to keep moving to be at the campsite well before high tide where the beach becomes unsafe and undriveable. We chose one of the few dingo fenced sites as we weren't taking any risks traveling with Louis.
Darkness falls quickly in Queensland so we only just had time to get our tents set up and organised before night fell and we settled down for a BBQ and an evening playing Yatzee!
Thank you to James and Naomi for the pictures 🙂 – we decided that 3 cameras on the island was overkill so we left ours behind!