Months have yet again gone past without a post! In my defence I spent March in Australia for my little sisters wedding and then packing up and shipping the rest of stuff that we had in storage – it was a frantic, busy trip. When I got home it was straight into mad gardening season including playing catch up with all the seeds that should have gone in or got started in March!
We had wonderful peas but they all got wiped out a couple of weeks ago when we had a heatwave come through: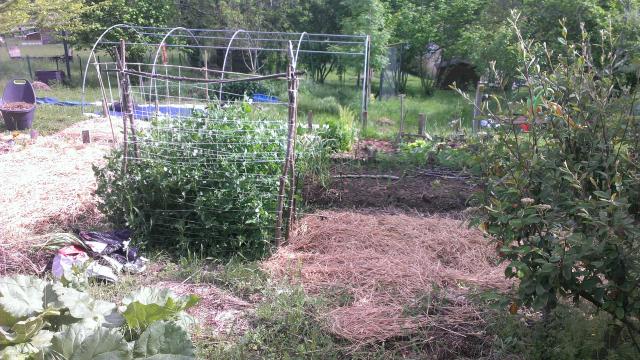 I've also extended my growing area into the space under the hoop house, a new round garden, a potato bed and a soft fruit bed. I'm growing butternuts, decorative gourds and baby watermelons on the edges of the hoop house and will train them up over the hoops. Tomatoes run down the centre with ropes hanging down to support them, I'm hoping it works really well, we are also going to install a drip system to help with the huge watering job.
We have so much in: beans, melons, tomatoes, 19 strawberries, raspberries, currants, gooseberries, 3 types of basil, courgette (zucchini) – both normal green ones and a climbing yellow variety, potatoes, cucumbers, broccoli, cauliflowers, kale, rainbow swiss chard, lettuce, carrots, radishes. Lots of companion plants in too – nasturtiums, calundula, marigolds and borage. The grapes look amazing this year and the plums, peaches, apples, walnuts, hazelnuts and figs seem to be no worse for wear even though we had a late frost that sent a lot of the new budding leaves black.
I'll get some up to date pics shortly!