For those of you that sew you'll understand the important art of stash building – you know when you have to buy any gorgeous material that you see because your stash obviously needs more building done to it ;)!
I have discovered that the best way to stash build is to explore the delights of all the fantastic American on-line fabric shops. I know that I should support my local shop (and I do when I can) but we are talking some pretty major savings. I'll give you an example – Amy Butler (or any other of your yummy designers) fabrics retail here in Australia for around $28/metre – those exact same materials are sold in the US for around $8.50/yard. Of course I need to pay my post as well but USPS do a flat pack envelope that you can fit about 8 yards in for $14.95, so it works out less than $2 a yard extra in postage. What can I say – I'm a student, I'm a thrifty girl, I just can't justify spending nearly 3 times the price for exactly the same material ! I'm glad I shared that with you – my guilt is slightly reduced :).
My most recent order was delivered yesterday (just about a week from ordering – not bad). I was so excited! I ordered from the Fat Quarter Shop who I hadn't used before. I had a lovely email from Kimberly to keep me up to date with the progress of my order and as usual I had lovely customer service (gotta love the Americans for that ;)).
This is what I found when I opened my envelope: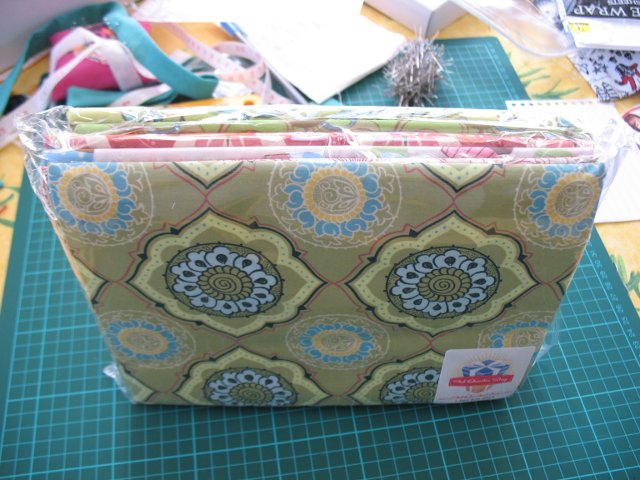 I thought that was fab that it was in a zip lock envelope as the US post envelope is only cardboard so if it got wet your fabric would too!
So this is what 8 yards looks like (I got 2 of the fabrics with 1.5 yards to make some PJ pants for me and probably another apron with the other). Mmmmmm yummy colours jumping out:
I thought I'd just add in what the fabrics are – top left to right:
Art Gallery Fabrics: Alhambra II Garden Cashmere Cameo
Amy Butler – Soul Blossoms Lemon Daisy Paisley
Art Gallery Fabrics: Alhambra II Green Granada Arches
Bottom row left to right:
Alice's Wash Day blues Cream Embellished Floral (Circa 1880 – how cool!)
Ann Kelle for Robert Kaufman: Confections Pink Cupcakes and Sweets
Amanda Murphy for Robert Kaufman: Swiss Chocolate Chocolate Lovely Lotus
Amy Butler – Soul Blossoms Tangerine Disco Flowers
I'm very excited and just need to work out what to make now! I often need to sit on new fabric for a while before I do anything as I can't bear cutting into it! 😳