As I mentioned in the post about our house hunting trip in March we have been wowed by the quality of the food in the Perigord and I though some of our finds during that trip deserved their own post!
Joël and I manage a lunch out on our own one day while house hunting. We found a great little restaurant in Issigeac called Casa Del Seyrat, they did a fantastic lunch menu and even though we arrived at the very last moment to be served the owner and staff were lovely and had a great chat with us as we were leaving when they heard we were here to find a home!: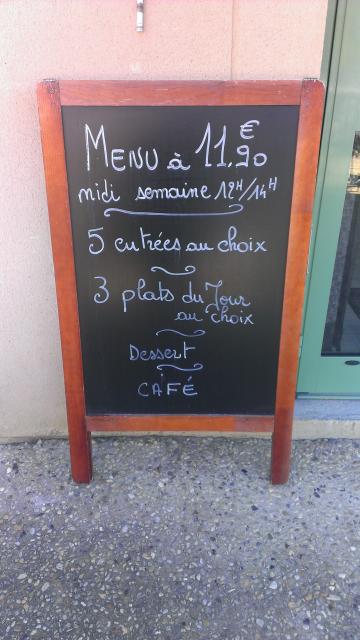 For entrée I had a lovely selection of crudités (salad bits) and J had a soup. For main we both had the steak with an incredible red wine and shallot sauce, carrots in a cream sauce and of course frites!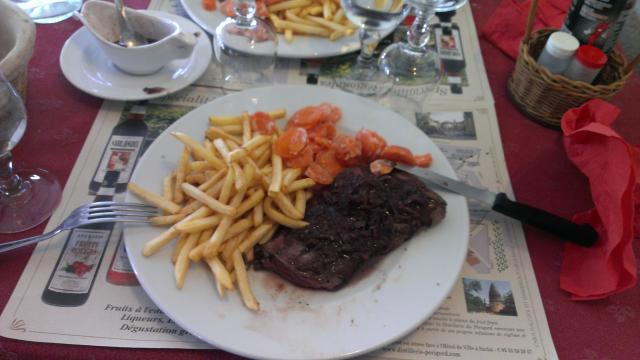 For dessert I nabbed the last piece of the tart made with the local (ish) 'prunes de Agen' (J had to manage with a gorgeous chocolate mousse which I was too busy to take a picture of!). It was amazing!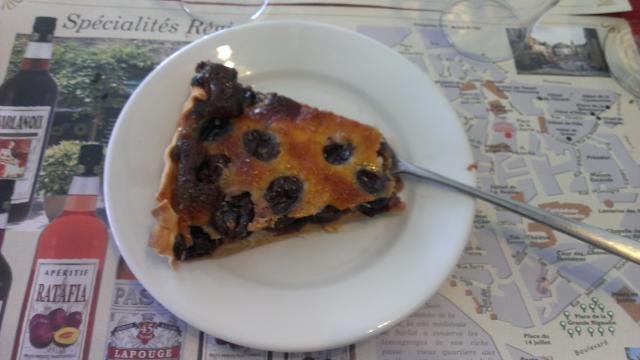 At the end of another long house viewing day trip across in the area around Sarlat we were driving back along the river and decided to stop for dinner.  There is an amazing village in the rock overhanging the Dordogne river called Beynac-et-Cazenac (look it up it is really amazing!).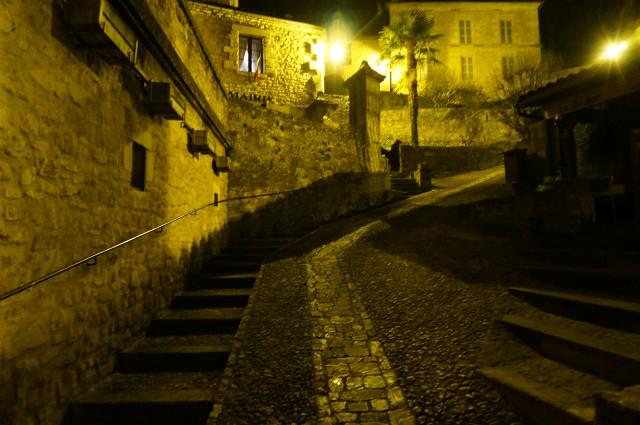 We wandered up the hill and found a restaurant called 'La Petite Tonnelle', they had a set menu for 2 courses for just over 20 euros so we decided to try it as it looked lovely. I'm so glad we did, it was the nicest meal I'd had in a long long time. We all decided to go for the main and dessert, except for my mother in law who chose the fish soup starter (which I forgot to take a picture of!). The boys had the confit de canard (confied duck) with a pesto, white beans and puree (artichoke maybe, I can't remember), I was jealous when it came out and hoped I'd made the right choice with mine: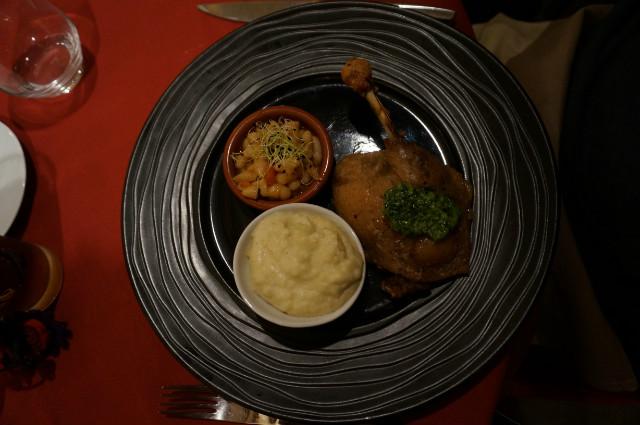 Hubby and my mother in law had the veal which looked divine as well: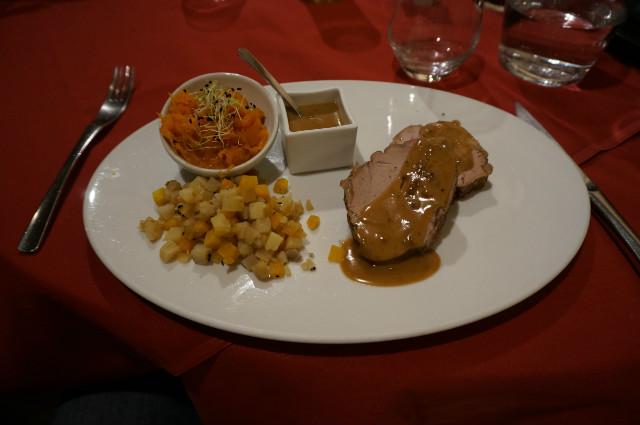 I chose the lamb and I was wowed over when mine came out: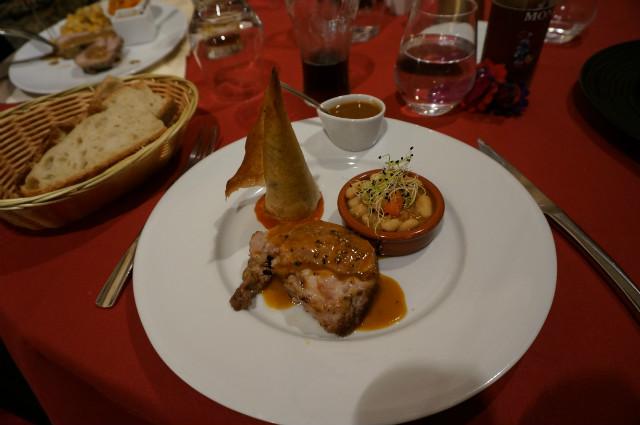 The little pyramid was filled with spiced butternut and a red capsicum / pepper sauce it was really really delicious and the lamb just melt in your mouth.
Our little man wasn't eating yet but enjoyed being out with us!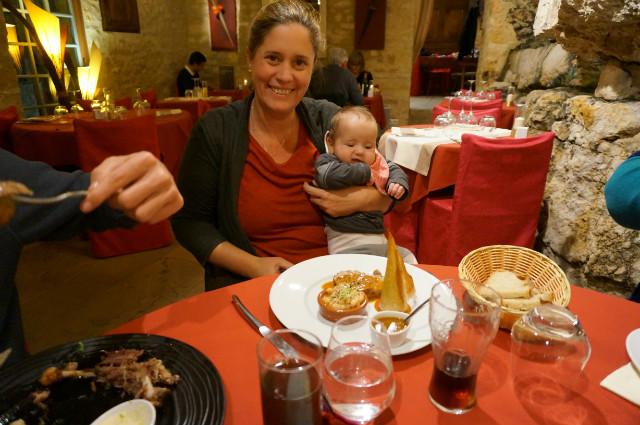 The wall of the restaurant was the wall of the cliff with water seeping out right next to us – very cool!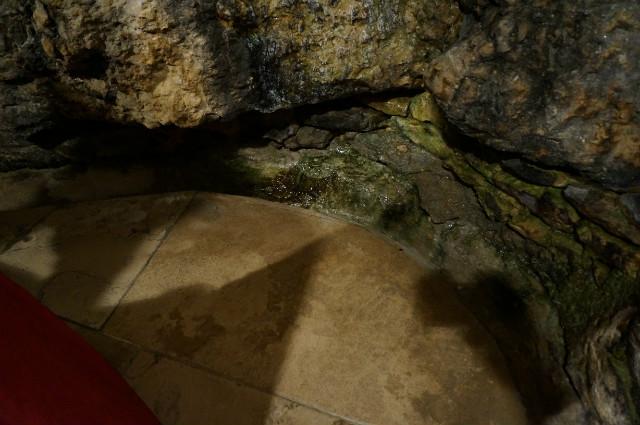 The meal finished with divine chocolate fondants – a picture says 1000 words!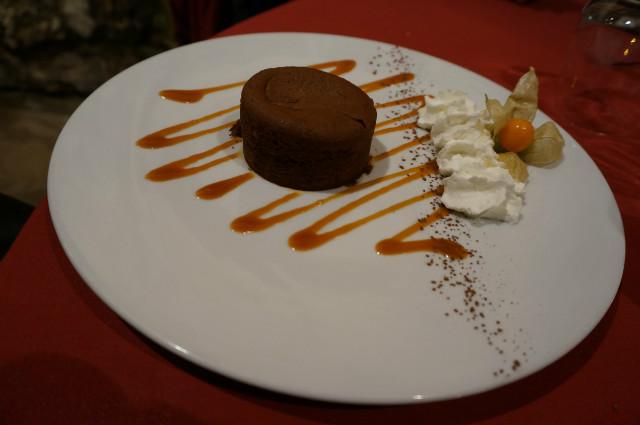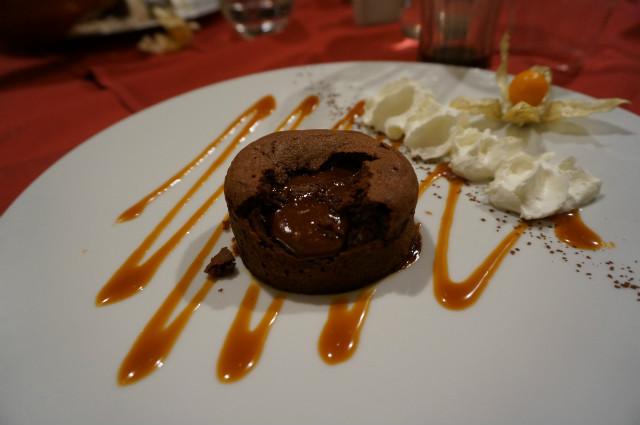 It is a shame we didn't get any photos of the village in the light but this was our walk back down the hill from the restaurant back to the car: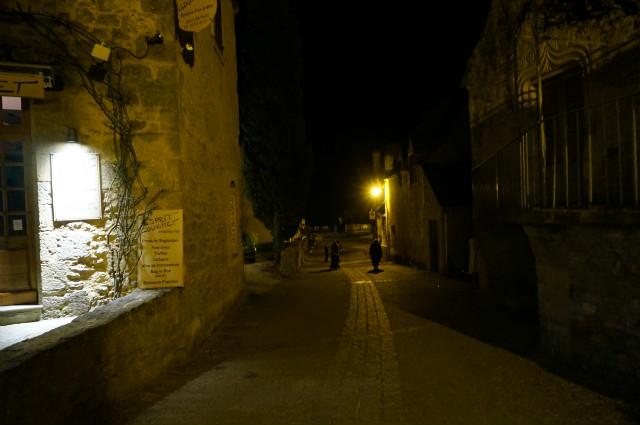 We also enjoyed all the local produce and cooked up a storm! One night was one of my all time favourite meals, magret de canard (duck breast) with green beans and potato gratin – delicious!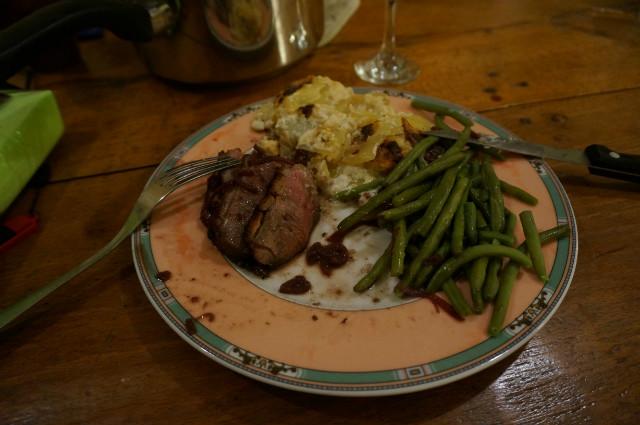 And my MIL made a lovely homemade tarte tatin which we had with crème fraiche: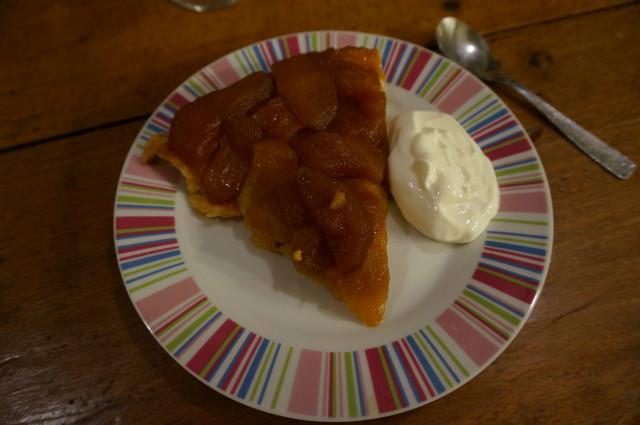 And finally with the arrival of spring it was a real pleasure to stop one Sunday and not go house hunting and have our first meal of the year outside: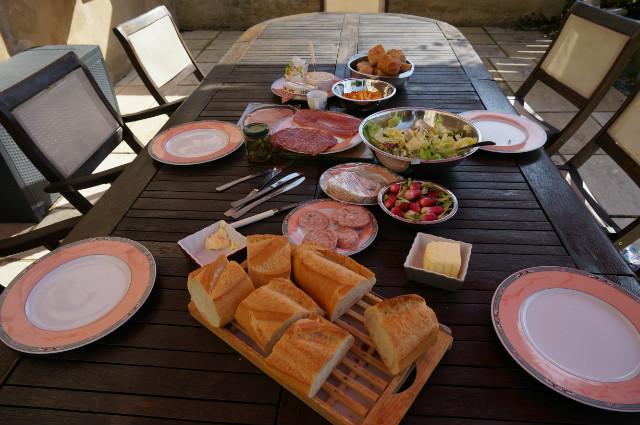 I did manage to put a few kilos on between staying with my MIL in the UK and the month in France but thankfully have got them all back off over the summer!